This article contains affiliate links.
Una Mannion is the author of A Crooked Tree, which was released in hardback on 28 January. She took the time to answer some questions for us.
Tell us a bit about A Crooked Tree.
The book is set in the summer of 1981 outside Philadelphia. In the opening scene a family of five kids is being driven home by their single mother. They are squabbling and, frustrated, the mother pulls in and orders her twelve-year-old girl daughter out of the car five miles from home. As the car drives off, the narrator, her fifteen-year-old sister, and the other children look back at their sister standing on the road in the coming dark, sensing that something terrible will happen and already feeling responsibility. The narrator is grieving the death of her father and trying to make sense of her family and the adults around her. She has a sense of everything spinning out of control, including her family. That summer she will deal with the consequences of that moment they leave their sister on the road as she tries to hold on to her family.
I love books set over a long, hot summer. What's the appeal of that setting for you?
I think the summer offers a structure, both a temporal and narrative frame for the trajectory of events. The mother leaves the daughter on the road the very first day of summer and what follows changes everything. Summertime, particularly in the 1980s, is a time of experience, where kids are free to wander into discovery and into trouble. I remember those hot summer days, tar melting on the street, being bored and listless, and how the days unfolded into warm nights where we dared to do more than we thought we should. In some ways the book is an elegy for that time in our lives. For the narrator there is significant change ahead of her and by the summer's end she will have to grow up, accept how flawed we all are and find empathy.
What were the challenges of writing from the perspective of a child?
I wanted to write from the perspective of a teenager and started the book in the third person. I struggled to get that voice to capture her innocence. It felt too distant, so I changed to the first person after 30,000 words. While this voice can be limiting in some ways, almost everything has to be filtered through a fifteen-year-old sensibility, I think it added more urgency or immediacy and I am hoping that this helped with the overall tension and pacing in the book. There were times I wrote things a fifteen-year-old wouldn't say or know and I didn't want her to be precocious which can sometimes happen with child narrators, so there was a good bit of editing. She feels a hole of grief inside her for her dead father and she is trying to grasp at understanding, but she is not fully able to articulate these shadows that are only starting to take shape. I hope the voice catches that moment as she is coming into awareness and starting to understand.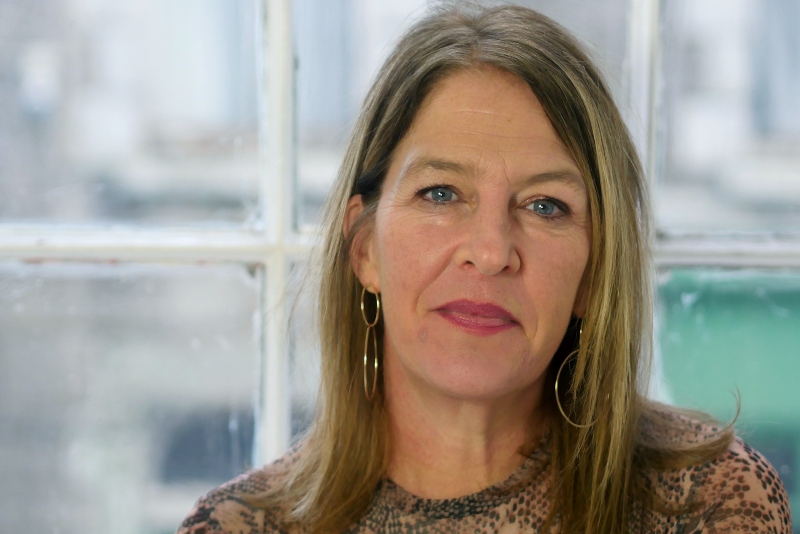 What's a typical writing day like for you?
Chaotic! I don't write every day. I write when I can. I try to cordon off time where I write in intense bursts, day and night for two or three weeks where I am totally immersed. I don't think this is a recommended practice, but for me it has been a necessity because I work full-time, am a mother to three kids and have other commitments. I find it hard to dip in and out of the work; I feel like I need to plunge into the world and be completely in it. I recently read an interview with the writer Kevin Barry in The Irish Times where he talks about 'fighting off the conscious world' each morning on the way to his writing shed. That resonated for me. I love when I get utterly lost in the story I am writing, when I am completely inside it.
Do you have another book in progress and can you tell us anything about it?
I am trying to finish my second book right now, a novel about a girl whose mother disappeared before she can remember. She is being raised by her father and only has his story of herself and what happened. It's a book about memory, forgetting and a disappearance that echoes ever so slightly themes in The Tempest.
What would you say to someone who wanted to write but wasn't sure where to start?
I feel like I was that someone for so long, wanting desperately to start and not knowing how. I would say write regardless of whether you know what is going to happen or what it's even about. Start with an image, an anecdote, a memory, an object, a character, a place. The work will gain its own momentum and shape. But you have to write to have something to work with. I also would highly recommend writing groups. It's in a writing group that I was given deadlines and encouragement. Invaluable.
What books have you read and loved recently?
Ingrid Persaud's Love After Love which just won the Costa First Novel Award ripped my heart out. It is so beautifully told with so much emotional heft. I read Elizabeth Wetmore's Valentine in one gulp. I couldn't put it down and her prose made me wonder why I am even trying to be a writer. Most recently I read Irish writer Elaine Feeney's As You Were. I loved it for its intelligence, wit and tremendous heart.
Buy A Crooked Tree now on Amazon