This article contains affiliate links
Cat Step by Alison Irvine
Buy Cat Step now on Amazon HERE
With my thriller-reader head on, I read the blurb of this book, which mentions a mother leaving her child alone in the car while she goes into a shop, and assumed that the child was going to be taken. But what happens here is actually much more interesting than that, I think. Liz and her daughter Emily have moved to a small Scottish town where they know no-one, and when the car incident happens, and someone tries to break into Liz's car to steal her phone, a passerby reports the fact that Emily was left alone. What follows is a slow but steady unravelling, and a deep delve into what happens when you're pushed to your limits as a mother.
Liz is an easy character to like, because despite her mistakes, her love for Emily really shines. As a reader, you're aware that Emily's father is no longer on the scene, but Liz's love for him is very clear too, and the revelation about his absence, which comes about halfway through the book, is breathtaking. The writing here is understated and accessible while also being very poetic. Liz is a dancer and some of the language about dancing (which is where the title comes from) is beautiful.
Cat Step is a quiet novel, but a compelling one. I was pulled through it, always keen to know what was going to happen next, and often surprised by what did. Alison Irvine is a writer with great skill and control; some of the scenes featuring Liz and her unlikely new friend June are incredibly moving precisely because of the sparse, clipped way in which they are presented. I fell hard for these characters and this book, and I recommend it very highly indeed.
Reviewed by Laura Pearson
This Time Next Year by Sophie Cousens
Buy This Time Next Year now on Amazon HERE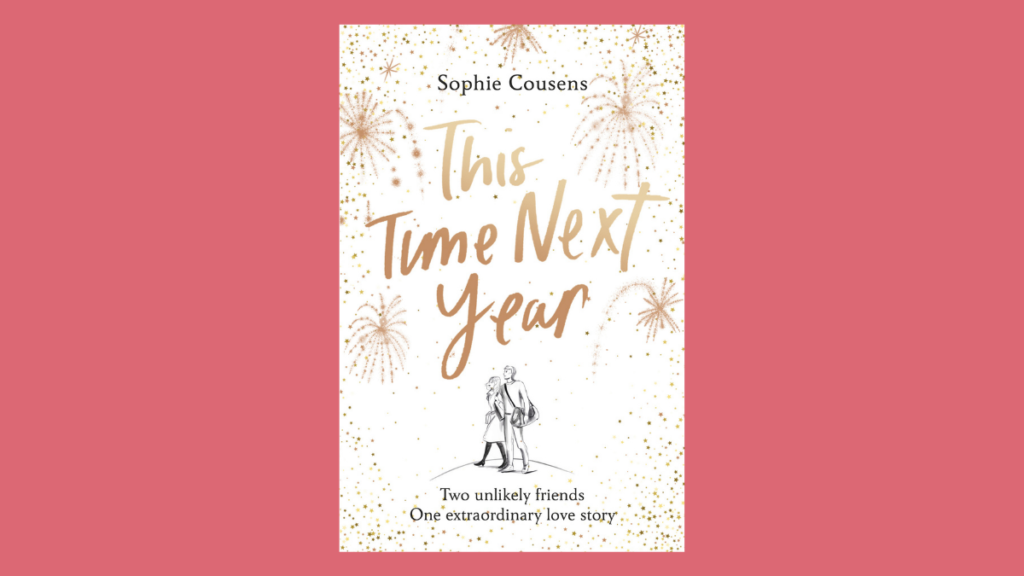 When Minnie meets Quinn on their shared thirtieth birthday, New Year's Day 2020 (a 2020 in which Covid never happened, by the way), they are strangers, but it soon becomes apparent that they have a connection. Thirty years previously, on the cusp of the 1990s beginning, both of their mothers were in labour in the same London hospital, and a local newspaper had offered £10,000 to the family of the first baby born in the new decade. Quinn's mother not only won the prize but also stole Minnie's mother's name idea, which led to Minnie's mother feeling hard-done-to and as if Minnie is unlucky for all those years.
This is a rom-com, so of course you're expecting love to blossom between these two very different characters, but Sophie Cousens certainly keeps you on your toes with the timing: sometimes they are both seeing someone else, sometimes one of them is, and sometimes they are not ready to take that step. What I loved here was that Minnie and Quinn connecting had the knock-on effect of their mothers reconnecting, and that made for a really interesting and satisfying sub-plot.
I tore through this novel in a weekend and it left me with the warm glow that all good, uplifting books provide. I found Minnie satisfyingly complex, and I adored her relationship with her best friend and business partner Leila. In fact, the entire cast of characters was really well drawn and quirkily interesting. If you enjoyed Josie Silver's One Day in December, I'm pretty sure you'll also enjoy this.
Reviewed by Laura Pearson
Small Pleasures by Clare Chambers
Buy Small Pleasures now on Amazon HERE
I intended to read Small Pleasures in the sunshine in France back in August, but then I lent my proof to my dad on that same holiday because he didn't like the book he'd brought with him, and then my mum read it before passing it back to me. It's done the rounds, and brought much (not so small) pleasure to various members of my family. I'm glad I've finally had my turn.
I read a couple of Clare Chambers' novels many years ago, and always enjoyed her style. This new novel, which seems to be garnering huge amounts of praise, is beautifully quiet, in a way. It's set in the 1950s and its protagonist, Jean, lives with her elderly mother and works as a reporter on a Kent newspaper. She hasn't had much in the way of a love life and she doesn't seem to have many friends. Her life is small and steady. When Jean takes on a story about a woman who claims to have had a virgin birth, she gets entwined with the family involved and everything in her quiet life is thrown into disarray.
Jean is a wonderful character, and I felt I understood her completely. The way she was trapped and the things she'd given up. Chambers writes with such subtlety about the ways in which her life changes over the course of the novel, and I rejoiced for her chance to experience love. The relationships, here, are what is so wonderful, I think. Jean's relationship with her mother, and with her editor, really struck a chord. I have no doubt that I'll be reading Chambers again in the future.
Reviewed by Laura Pearson