We are constantly amazed by the ingenuity of the mums in The Motherload® Facebook Group but this fabulous trick for getting children to take their medicine is just brilliant!
Caryl Mayes posted this photo of her 19 month old son taking his antibiotics through a straw after she fashioned a pretend juice carton out of the medicine box, and popped the cap containing his dose at the bottom of it. Job done! Genius!
Her simple caption and photo said it all: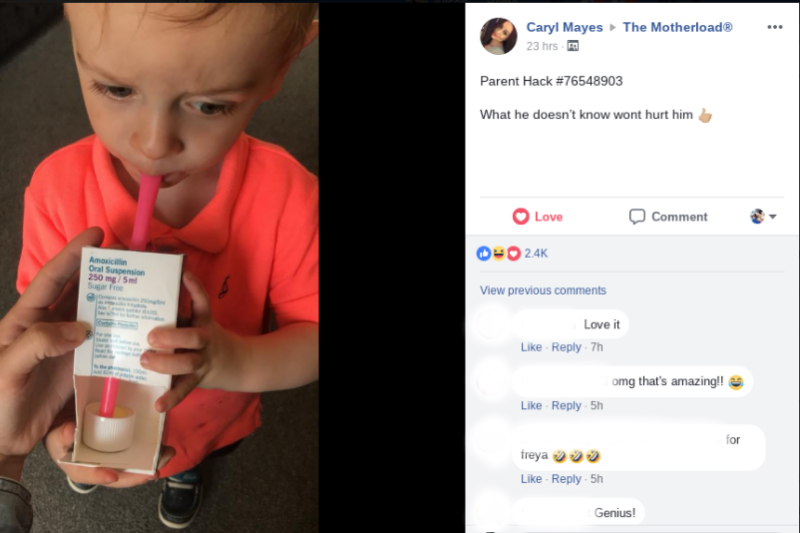 Why didn't we think of this?
How many times have we struggled to get our kids to take their medicine? We'll definitely be trying this one out next time!
We had a chat to Caryl, who is the mum of 19 month old twin boys Lucas and Theo. She told us:
"Both boys used to be brilliant at taking medication but since being poorly this past week its been an absolute mission and a battle three times a day to get this antibiotic down them. I have tried numerous ways, but unfortunately nothing lasted. They love to drink through a straw and even more so since having tonsillitis so I knew I had to try it via this method but had to disguise it. I'm just glad they are not at the age of reading – that would have been a problem!"
What a brilliantly simple idea.
The MOLOs loved it, with 2.4k reactions and comments in a matter of hours. Caryl had already tried hiding the medicine in banana milkshake and apple sauce, but her boys had clocked onto what what was happening and refused the meds. Not so with the faux juice carton!
Emma said: It's staring us right in the face!! Why didn't we already think of this. Genius!
Rachel commented: So bloody clever I wish I had known this when my girls were little. You're a top MOLO!
Another MOLO posted: I've just gone back in time 25 years and can taste the amoxicillin. It just made me gag pretty severely
We really hope this helps other parents get their small folks to take their medicine.
Caryl – we salute you!
Image credit: Caryl Mayes/The Motherload®