Subscribe. Shop. Support: This Is The Motherload Store.
Accessories
A beautiful, stylish and amazingly, baby-proof range of jewellery, Mama Jewels is the answer you have been looking for! There is something for parents and tiddler alike here, with gorgeous teething and nursing necklaces, gorgeous gift hampers, soft toys – and all with an emphasis on Motherhood.
The personalised sterling silver jewellery is really extra special for a lovely gift, although we reckon you'll find it pretty hard to give away!
This gorgeous bracelet not only has a Liberty print star, but it can also be personalised with initials of loved ones. A beautiful keepsake for anyone!
Gifts
Don't automatically reach for the florist's number when your friend or sister has her baby, or it's Mother's Day and you want to show your appreciation; instead, go straight to Don't Buy Her Flowers. These packages are the PERFECT gift for a new mum! With boxes containing travel mugs, beautiful scarves, and a decent magazine, she'll be able to while away those moments when rooted to the sofa in comfort AND style!
We LOVE the Care Package – ideal for new mums or a gift for a friend who needs a pick-me-up treat. This lovely box contains Tea-pigs bags, a great magazine, chocolates and a beautiful scarf. Each hamper can be personalised, making this a really lovely gesture.
And on the Any Occasion package, you can even add a mini bottle of gin or two – now that is a PERFECT MOLO gift!
Interiors
A witty range of original home-ware, appealing to people's insatiable thirst for knowledge in all things culinary. With great quality tea towels, oven gloves, aprons etc, mostly with an 'infographic' slant, not only do they look brilliant in your home but they will also educate you as they all include guides to seasonal fruit & veg, classic cocktails, food & wine pairing, and tea & coffee!
All designed and made in the UK.
It'll be no surprise to our regular readers that here at The Motherload we LOVE cocktails, so naturally a the top of our HQ Wishlist is anything with the Classic Cocktails print with all of our favourite mixologist's recipes! That's the office party sorted…
Childrenswear
KyNa is an online children's boutique that solely focuses on organic clothing for 0-9 years olds. With funky, colourful designs and brands like Mini Rodini, Maxomorra, POPUPSHOP and Modeerska Huset to name but a few – all the clothing has been put through the test by the KyNa boys so you feel like you are part of the family when you shop with KyNa Boutique!
And with fast FREE uk delivery, FREE uk returns and low international shipping costs, there's no need to hesitate with those late night feed purchases!
We adore this Indikidual 'Sombero' print jumpsuit! Cute and quirky, this is perfect for baby or toddler! In fact, never mind them, we quite fancy it for ourselves!
Interiors
Charlotte Harley Candles are 100% naturally scented soy wax aromatherapy candles. Using only the finest essential oils, all candles are hand poured in small batches making each one unique. Each organic candle is made with eco soy wax , the finest aromatherapy grade essential oils, organic cotton wick and nothing else, meaning that not only do they smell utterly wonderful, they are also made from the BEST ingredients.
With an extensive range of scents to choose from, these candles will indulge your mood and senses and enhance your wellbeing. They burn beautifully to deliver an enticingly clean fragrance; each candle will give many hours of beautiful burn time.
We ADORE candles, but so often they can promise so much in terms of gorgeous scent and then disappoint. Not with a Charlotte Harley candle – this Lime, Mandarin and Grapefruit candle is UTTERLY heaven, and a 30ml candle offers a burn time of over 40 HOURS! What's more – they make the most gorgeous present.
We cannot get enough of them!
Childrenswear
This high end children's clothing store stocks a fabulous range of recognisable established brands and compliments with some smaller, independent labels, from Joules and Hatley to Gardner and the Gang and Scandi favourite Mini Rodini.
From lovely outfit sets, cool mouse print blankets, sturdy wellies and even the CUTEST bow ties, this British company offers something for everyone aged 0-11 here and will be loved by all.
Made from 100% cotton, this little Joules outfit is perfect for any occasion! With a super cute cat design on the pocket and the convenience of being a ready to go top and leggings set, we LOVE this outfit. Joules is always a great British favourite brand because of it's great quality, and lovely designs and with Dapper Baby's fantastic customer service and delivery, what are you waiting for?
Gifts
Created in her home, Katie Edwards handpaints EVERY SINGLE mug, cup, teapot, plate and tea bag tidy herself. Using lovely personalised quotes, these ceramics are incredibly personal, beautifully painted and will really stand out in any home. In fact, they are so lovely you are at danger of never wanting to use them and rather keep them to look at all day long. Each item is lovingly produced, meaning that you can be assured that when you receive or give it you will absolutely love each piece.
These Christmas plates are so special and will create a wonderful tradition and memory for every child when they lay out their mince pie, carrot and tipple for Father Christmas on Christmas Eve. We love that it can be kept within your family and passed down the generations – Katie only uses the best ceramic paints meaning that every plate will last for years. You can even add up to 5 children's names on a 26cm plate, so this a gift for the whole family and a lovely addition to any Christmas Eve hamper to really get the magic of Christmas started.
Apps
Imagine if StoryTime and FaceTime married and had a child?! Meet Far Far Away, a family first app that lets you share the wonder and enriching experience of reading a story to your child or grandchild – no matter where you are in the world. It's just as good as being there, maybe even better! With so many of us living in distant location from our loved ones and friends, this app brings everyone closer and gives the chance to maintain bonds through reading and games, and a whole lot more. We love it.
With many MOLO families in the Forces, or with a parent who regularly works away, this app is a wonderful way to reconnect with children on a regular basis and do those things like reading, singing and playing that previously would have needed to wait until you were back together. Grandparents, Aunts and Uncles and friends alike will love the ability to read these fabulous stories that are bursting with gorgeous pictures, and with the ebooks starting at 79p, you'll quickly be able to build a wonderful library to choose from. And that's not all – there is a lot more to come from Far Far Away, such as games, photosharing, rhyme time songs etc!
Wine
NATURALLY, the Easy Wine Club & Shop and The Motherload are a match made in heaven! Offering a fun way to learn about wine, Easy Wine Club is an approved program trainer for the Wine & Spirits Education Trust and can train anyone who is looking to gain their wine qualifications. If you just want to learn more about your evening tipple however, they also offer wine tasting events that you can host in your own home!
The Shop offers FREE delivery to Mainland UK on any order over £85.00, which is perfect for when you need to replenish the stores. That doesn't stop you from buying individual bottles however, and with prices starting at around £6, we think this will fast become a Motherloader's favourite wine retailer.
It's fast becoming a tradition within The Motherload HQ that we celebrate any major or minor occasion with some fizz, and so we were delighted to find the excellent Bottega Prosecco Gold in the Easy Wine Shop. This wine is fruity with scents of golden apple, Williams pear, acacia flowers and lily of the valley, so you can be assured it tastes as good as it looks. And speaking of looks, while the Bottega is certainly not doing any harm to our office drinks cabinet with it's stunning gold bottle, the cover is actually there to protect the wine from light which in turn preserves the aroma and freshness, and gives it a longer life. Not that that is needed in our company, though!
Childrenswear
Uni & Jack sell rainbow-bright, Gots certified organic children's clothing that are ethically sourced Britain and Scandinavia. With the majority of the collection being unisex, they use gender neutral marketing and believe that children should be seen and heard, and encouraged to play outdoors, enjoy wildlife – they even carry this ethos through to supporting their local North Wales Wildlife Trust! You'll notice immediately that their collection is ordered by type and age for babies and children – not 'boys and girls', because everyone likes rainbow bright clothes and big prints!
Designed in the UK, with the help of kids FOR kids, this Anglo-Indian brand, Doodle Do, is designed and doodled for fun, made for play and created with a return to non-gender clothing with beautifully organic fabrics. This range is for children who imagine crabs can fly, whisper their secrets to dogs and believe everything is possible. We utterly LOVE these funky, zig-zagged print harem dungarees – guaranteed easy wear for exciting adventures!
Gifts & Childrenswear
Lavender's Blue Boutique is the brainchild of Emma and Laura. Having met through baby groups, they became business partners after realising that while the town they were in, South Molton, had many lovely giftware stores, it didn't have a great one-stop shop for children aged between 0-5 years. Lavender's Blue stocks clothing, gifts, toys, and lots, lots more – but the lovely thing here is that everything in their collection has been lovingly chosen with their own children in mind so you can be sure there is always going to be something ideal for your own kids, or a perfect gift for someone else.
Lavender's Blue Boutique may be lovely local gem for those in South Molton, but you can order online by clicking on either their logo or the product picture below to go to their site!
There are so many gorgeous products in this collection from Lavender's Baby that we struggled to pick just one but we have finally fallen for the Tegu Magnetic Blocks.
We love that Tegu have evolved this playroom staple from the ordinary block that have been a foundation for developmental learning for eons into a toy that has unlimited potential for expanding the imaginations and possibilities for little and big builders alike.
The Whole 9 Months is a fabulous gift box service that gives you the opportunity to really spoil your pregnant partner, daughter, friend, sister, niece – even your neighbour, perhaps! These wonderful boxes have been cleverly put together by Lauren Derrett, a Hypnobirth teacher and Doula ,who, with four years of experience, and also a mother of 4, you can be assured completely understands what a mama-to-be wants and needs!
Each gift box has been carefully and thoughtfully curated, with unique finds, and products that will really make any pregnant, or new mother feel very special indeed.
The Whole 9 Months offers a subscription service, and Free UK Delivery on orders over £70.
What we wouldn't have given for one of these gorgeous boxes to arrive on the doorstep at six months pregnant!
It's WAY too hard to choose a favourite, so although you can customize a box, we'd much rather have had (and will buy for our sisters, and best mates) the absolute genius that is the 4 Box Pregnancy Subscription! This carries your loved one through their entire pregnancy; from first trimester, to the last, a birth preparation box AND a brand new Mama box (that includes our No.1 Recommended new baby gift; Ewan The Dream Sheep.) THIS is exactly what every mother deserves while she is busy baking that gorgeous little bundle.
Coaching
Barefoot Coaching Cards are the brilliant brainchild of Kim Morgan, one of the UK's leading business and personal coaches. Kim has brought her expertise and passion to the cards, and has more than 25 years experience in psychology and people development.
These cards are designed to be dipped into time and again, and give you the power of coaching at your finger tips. These cards will help you start meaningful conversations, develop your relationships and get to know yourself and your loved ones better. Beautifully high quality, they make fantastic gifts for yourself, or your friends – for everyone from new parents to grandparents, and cards to help you discuss your relationship with loved ones; there is bound to be a pack for everyone here!
In addition to the coaching cards in the Life range, Barefoot Coaching Cards are also available for work and business owners, to help guide you through your professional life.
We love these super Coaching Cards for Every Day by Kim Morgan – giving you the opportunity to take stock, reflect and work through challenges that you may be facing in your day to day life.
Having the chance to reflect and nurture your own emotional well being can be tough as a parent, and finding the time in the whirlwind of family life can certainly be hard! These cards are perfect for grabbing five minutes of 'you' time. With questions designed to give you the power of coaching at your finger tips, these beautifully designed, high quality cards are the perfect size to slip into your handbag, change bag, car etc to have nearby whenever you need them. And with over 50 in a box, there will be plenty of variety.
The Motherload
Our Store & Directory is a unique concept where we help you to promote your business!
From just £1.50 a week, you can list your business with us and benefit from promotion on our website, social media and lots more opportunities from brand to hand, sponsored editorial, advertorials etc.
Contact Kate Dyson for more information, or click on button below to find our rate card. Media kit available on request.
The Motherload Loves section boosts a product that you would like to feature! Whatever it is, we can work with you to make recommendations to our readers, and help increase your product sales. Offering a discount to our members in our exclusive mail out – only available to registered members – means that you will get priority placement and direct marketing straight to MOLOs.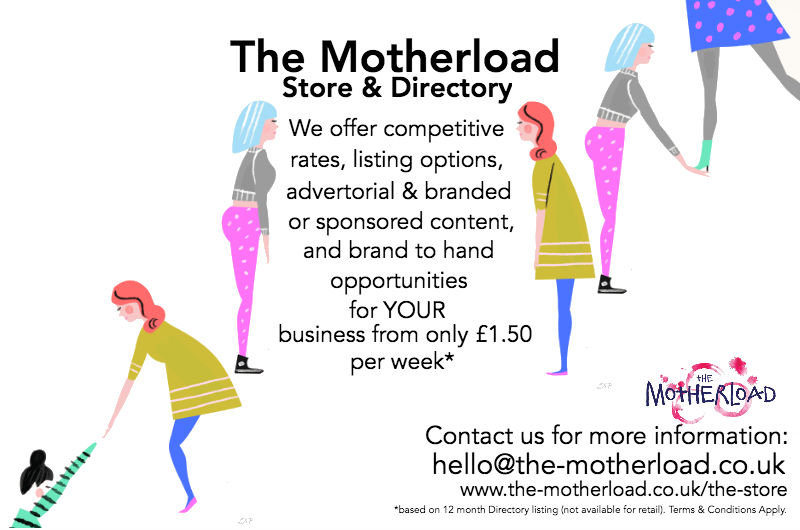 Our Store & Directory is a unique concept where we help you to promote your business!
From just £1.50 a week, you can list your business with us and benefit from promotion on our website, social media and lots more opportunities from brand to hand, sponsored editorial, advertorials etc.
Contact Kate Dyson for more information, or click on button below to find our rate card. Media kit available on request.
The Motherload Loves section boosts a product that you would like to feature! Whatever it is, we can work with you to make recommendations to our readers, and help increase your product sales. Offering a discount to our members in our exclusive mail out – only available to registered members – means that you will get priority placement and direct marketing straight to MOLOs.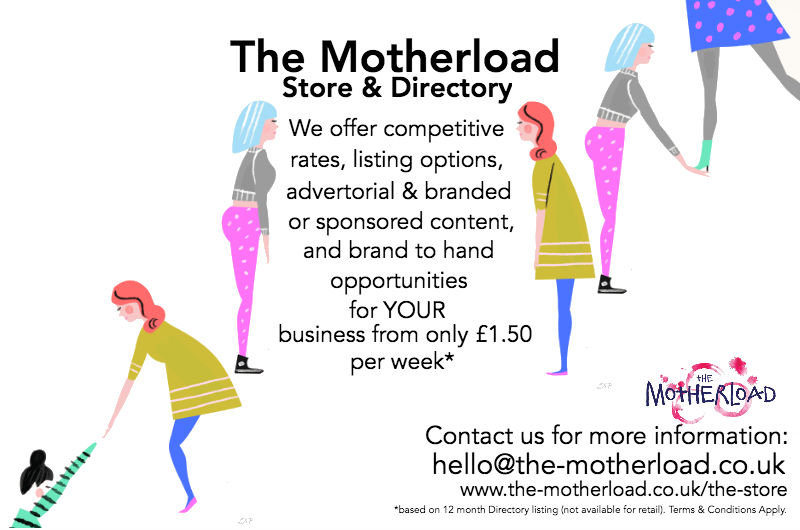 The Motherload Directory
Ditch Google. Bin the Yellow Pages: This Is The Motherload Directory.
Wedding Planner
Fancy having your wedding in a magical forest, or a baby-naming 'glistening' in a truly unique venue? Well Emma-Jane is the person to organise it for you and make your special occasion out of this world.
As a celebrant and alternative wedding planner, she can organise weddings which suit your own very individual style: how about a wedding weekender or a Wiccan ceremony  or steam-punk theme? Or something very traditional in a country house setting. Emma-Jane specialises in laid-back, budget-busting occasions and her personal service means your day will have its own unique twist.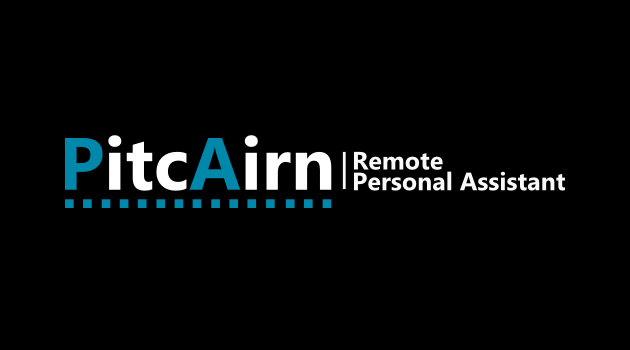 Remote Assistant
A remote, or virtual PA can be a lifesaver for any small or medium business. No employee overheads, you can engage Pitcairn PA on specific projects and guarantee a professional service every time.
Services include telephone and diary management, typing and dictation and general administration meaning that you can focus on the rest of your business, safe in the knowledge that your administration is being well looked after.
Marketing & Comms
As a non-profit organisation, or small business, getting your name 'out there' is daunting at first, especially if you don't have the skills in-house. Two Horizon's love of communications and marketing can help solve that; their services include providing your company with marketing & communications strategies, copywriting, social media planning, management and strategy, web design and product management.
As a business partnership, Two Horizons was created to support women and other mothers who might be just starting out, or need a little bit of extra support. And they definitely Get It – both Fiona and Ali are working mums, who have created their own business from scratch!
Sleep Consultant
Many parents know all too well that feeling of sleep deprivation, but what happens when you've reached your limit and need some extra help? Enter Louise Ross-Wood, of Personalised Sleep Solutions who, as a mother of two and qualified infant and child sleep training consultant, knows first hand the challenges faced by families when trying to establish good sleep patterns and routines.
Finding your way through to good routines needs support and with the Full Consultation package, you are assured of that. From a face to face, 2 hour consultation in your home or via Skype/telephone, personalised sleep action plan, telephone support and unlimited email support, this package is great for any parent who feels they need to confidently resolve specific sleep challenges and in establishing and maintaining healthy sleep habits.
Using gentle methods, that are tailored to your child and family, Louise will work with you holistically to create a solution for your child that everyone feels at ease with, and with Louise's guidance you'll be able to establish a new routine that works for all confidently and with support.
Life Balance Coaching
The Balance Collective, run by Clara Wilcox, aims to support women primarily with the return to work and career coaching. She can coach you to create the work/life rhythm that suits you as an individual, and provides support for parents to take control of their careers though topics such as balancing life, career coaching, employability support, confidence building, finding your USP or coaching you through a flexible working request proposal.
The Balance Collective's Return to Work and Career Coaching service is what a lot of women need after a maternity leave break. Our confidence often takes a dip and managing that transition from being at home to going back to work, with childcare, sickness and the like to contend with isn't easy! This package will help you to identifiy your strengths and skills, craft your goals and uncover anything that may be holding you back. Through six one to one coaching sessions lasting 45 minutes (phone or Skype) and email support to help keep you on track, focussed and supported, this could really help you to not only find your feet again in your career but also create a work/life balance that really works for you and your family.
Clara's vision for the Balance Collective is for it grow as a social enterprise, to support women, especially mothers, out of underemployment, and to help parents utilise their skills, education and experience in roles that can provide solid opportunities.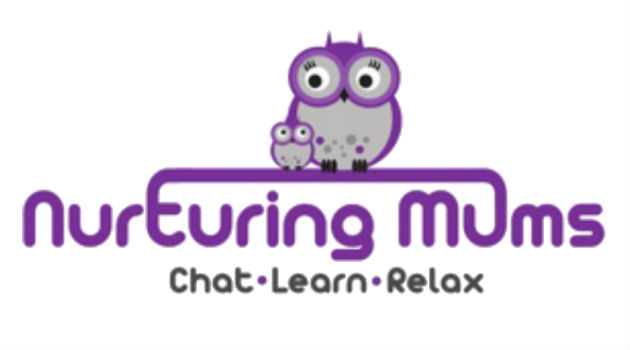 Run by new mum Lucinda, Nurturing Mums Postnatal course was conceived from a need to have more postnatal, practical advice for new mums and babies 0-9 months.
You may have done your antenatal course and felt confident pre-birth, but then so many of us take baby home and realise that we didn't expect the early days with a newborn could be so tough, and you have 101 questions about what, how and when to do X,Y and Z. The Nurturing Mums Course is non-judgemental and positive whilst also offering a support network for new mums and helpful advice from experienced professionals.
This course focuses on key areas of interest to new mums; from sleep advice, weaning, baby development and first aid and has been designed to give new mums a positive, non-judgemental experience.
This wonderful course isn't just for new mums though – many second or even third time mums will find this fantastic course a great way to meet new parents and find a wonderfully supportive group to for you and your baby.
Let The Motherload Store & Directory Help Promote YOUR Business!

Want to join The Motherload Store & Directory? Fancy becoming one of our Advertisers? We have lots of options and can create and tailor a package to suit you! Check out our rate card below, or send us an email and get the ball rolling!
DISCLAIMER: Please note that any transactions made with our partners are not the responsibility of The Motherload Ltd, and any issues regarding payment or delivery should be discussed directly with the above brands.