Everyone knows Hey Duggee is really for the grown-ups, right?  Well, forget your diamante or glitter finish on your nails and check out these amazing Hey Duggee designs, individually painted by Victoria Smith from Lincoln. She shared her incredible work on The Motherload®'s fantastic Facebook community and got an amazing response from the MOLOs.
Scroll down to find out how Victoria did these designs!
Victoria posted:
When Hey Duggee is life (and I have too much time on my hands)!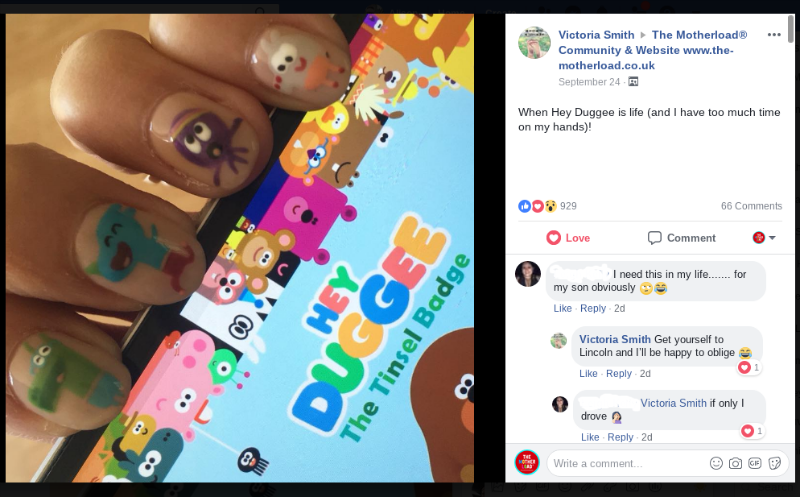 They are teeny tiny works of art! We were so impressed by them we asked Victoria to tell us how she did them.
She told us:
I run my own nail business so I can work around my 19 month old son. I do my own nails and use the images to build up my portfolio on my Facebook page. I was sat flicking through Halloween nail ideas to advertise on my page when my other half teased and said about doing a CBeebies programme on my nails…. so I did!
So how long did it take?
It took two hours to do the one hand (and unfortunately I'm not ambidextrous so my right hand is no where near as funky). It was totally worth it when my little boy saw them the next morning.
Talk us through how you did them…
I had to go through and colour match. I then do lots of prep work to the nail, cleanse, neaten cuticle and nail. It was a layer of base coat followed by a nude background colour. I then did Betty and Roly's basic shape first then added another colour, curing (with the lamp) between each colour. Once I'd completed the first two it was a top coat, cure and then they were done and safe. I then moved onto the following two and did the same again, one colour at a time.
Obviously we can't speak for Duggee, but we're pretty sure he would give you the nail-painting badge. A-woof!
Image credit: The Motherload® & Victoria Smith/VS Nails