For her sixth birthday, Bess requested a Science party, and up until then I hadn't really considered how much our play involves science and technology. Of course, they are au fait with the good old iPad, and probably know how to use my iPhone better than I do, and we have attempted a few 'experiments' at home by making slime and bath bombs. The closest we've come to 'experimenting' with electricity though is wrestling the iPhone cable out of Maggie's hands as a baby and the 'Operation!' game where we all secretly try and get the buzzer to work rather than 'helping' the poor patient.
So when Tech Will Save Us gave us the opportunity to review the Electro Hero Kit I was really keen. Play-based learning is so important to foster our children's inquisitive minds and introduce the concept of STEM (Science, Technology, Engineering and Mathematics) at a young age, especially as technology becomes increasingly prolific in our lives – and especially theirs.
Tech Will Save Us are on a mission to spark the imaginations of young people and encourage them to get hands-on with technology through digital and physical toys and their kits are great for kids as young as four years old, so perfect for Maggie to have a go as well as Bess (and for my heart to be slightly less panicked at the idea of my four year old brandishing electricity!)
The Electro Hero Kit
The kit comes with a battery pack (incl. batteries) and wires, moulds and online manual access instructions and we had also ordered their dough – but you can either make your own (instructions on the website), or use any other brand.
The online manual means that you do need a device to hand and for much younger children, they'll need a hand with reading the instructions.
Then we were ready to get going!
There are three missions in each pack – all led by different Avengers; you can test shields with Captain America, smash walls with the Hulk, and fix an arc reactor with Iron Man! Bess was especially excited, "I can't wait! This is brilliant!"
We decided to start with some walls to smash and so, using the moulds, Maggie carefully made bricks while Bess prepared Hulk's huge fist! Once made, we assembled the wall on the template and got ready to smash! Bess placed the wire black wire into Hulk's hand, and Maggie popped the red into one of the bricks, and as Bess 'smashed' the hand against the wall Hulk's roar came from the battery pack to their absolute delight! They had created a circuit to make the sound! We chatted about how that had happened, and how the electrical current had worked through the fist and brick, so that when they connected, the current was able to flow through the circuit. "So THAT'S how electricity works!" Maggie said, although I think she still half believed it was magic.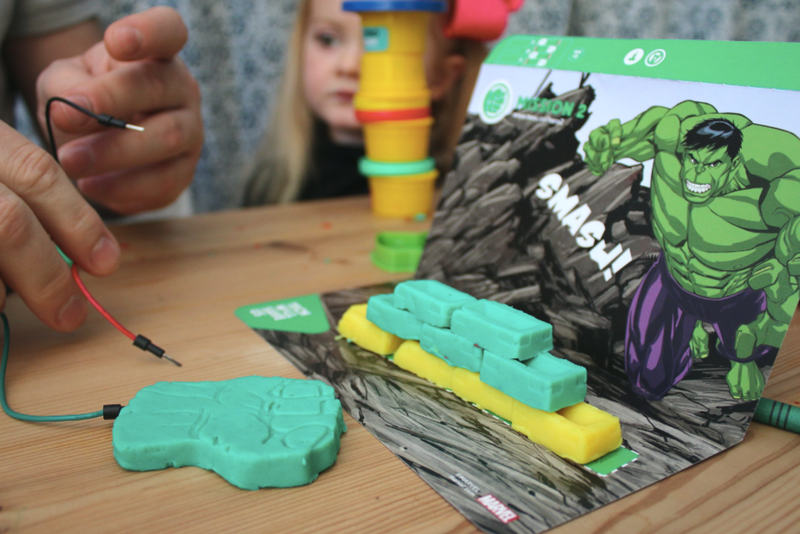 We decided to do another mission and got to grips with the instructions, again on the laptop, for Iron Man's 'Fix a reactor'. "What's a reactor?", Bess asked and as I had no real idea, it was handy that we were going to find out. There are three stages to this mission – first, to make a simple circuit with dough and this time, instead of sounds, we had small bulbs to activate. After a practise on a couple of blobs, Maggie used the mould to make the reactor component with the red dough and we assembled it on the template card. Bess carefully placed the bulbs, taking note of the 'long leg', into the reactor in three different places, and then together – actually now with Daddy who was gagging to have a go – they added the wires into the base and…. argh. It didn't work!
Okay, okay. This might sound disappointing but actually, it's a really important part of the kit. The girls learnt to go back and start again, carefully reassembling the reactor and checking all the connections. There was a bit of minor frustration when Bess was insistent that one of the bulbs was in the right way and it turned out not to be – but as soon as the circuit finally lit up, both of the girls were ecstatic. "We did it!" they said. "We worked it out!". I realised that so often we, as adults, 'make it better' and this kit meant that they had to go through a process of trial and error to work out the right way for the electricity to flow through the circuit.
The kit is priced at £24.99 (without play-doh) which may feel a little steep at first. It is reusable though, and with the three missions, the kids can not only try them over and over a few times, but they can also use the kit to try other things too. The girls both loved the 'superhero' element of it being Avengers themed and recognised the characters straight away – having that element also gave a bit of 'story' to the play. And of course, they can make other things now – in fact, as I'm writing this review Maggie is building a birthday cake and adding the bulbs as candles! I do think that including the play-doh pots would make it feel better value for money though – and at first, finding the instructions online felt like a palaver when we are so used to them being included. But it made sense once we did because it's part of the experience, and the instructions are really interactive with an opportunity to register a profile and collect badges which the girls really liked. Would I buy it? Definitely. Amongst all the plastic tat, this is not only a kit that keeps them occupied for at least 30-60 minutes at a time, but they really came away with knowledge, and that for me is priceless.
You can get 10% off any of the Tech Will Save Us kits by using HERO10 at checkout at www.techwillsaveus.com.
Disclaimer: Tech Will Save Us has paid for this article, however as always we review everything honestly, in line with The Motherload®'s ethos.